Description
This universal adapter has multiple slots to allow for use on multiple machine pallets or rotary tables. This universal adapter is modular in design with many options:
Mount directly with the following standard fixtures: RWP-001(SS), RWP-002(SS), RWP-006(SS), RWP-013(SS), RWP-018(SS) or RWP-030SS.
Mounted with the Riser: RWP-224 with any standard fixture.
Use either Extender: RWP-601, RWP-602 with any standard fixture.
7075 Aluminum, Anodized Type II Class 2
Our adapters and risers allow you to attach Raptor workholding products to any four or five-axis CNC machine. If you need an adapter or riser not seen here, please let us know.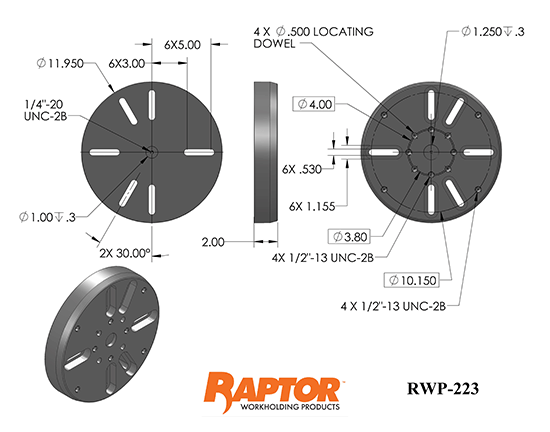 Raptor technical files are free for use of our valued customers. By creating an account or using these files, you agree to the Solid Model License and Privacy Policy.