Description
The RWP-208 is an emergency adapter plate that enables the following fixtures: RWP-001(SS), RWP-002(SS), RWP-003-4X, RWP-013(SS), RWP-018(SS) or RWP-030SS to be mounted on the pallet of your machine. You simply add the mounting holes necessary to connect this adapter to your machine. Once this adapter is mounted to your machine a Raptor Dovetail Fixture simply bolts down using the four cap screws and one dowel pin that are included with your fixture.
Also available for purchase is a universal plug for the bottom side of the adapter. You simply turn down the O.D. to match the hole of your machine or rotary table pallet, drop the plug in and tighten the cap screw. This keeps your adapter centered and prevents movement. Click here for RWP-PLUG-208 Product Link or simply click on Related Products tab.
The RWP-208 is 7.950″ O.D. X 1.500″ high.
The RWP-208 is manufactured from 6061 aluminum.
Our adapters and risers allow you to attach Raptor workholding products to any four or five-axis CNC machine. If you need an adapter or riser not seen here, please let us know.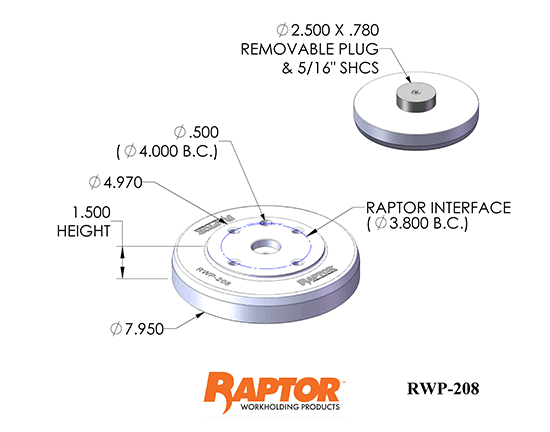 Qty of one Socket hard cap screw
Qty of one Standard Shim
Raptor technical files are free for use of our valued customers. By creating an account or using these files, you agree to the Solid Model License and Privacy Policy.