Description
The RWP-242-V100 is designed with the following interfaces:
Top surface has the RWP-502, 100mm Self Centering Vise, mounting interface.
Bottom surface has the RWP-006(SS), 2.25" dovetail, mounting interface.
The great feature about this product is that it allows you flexibility to interchange from a dovetail fixture application to a vise application, or vise versa, without breaking down your setup. It's simple and quick:
Mount the dovetail vise plate on to the RWP-006(SS) fixture, secure the spring loaded clamps
Insert the 2 dowel pins into the plate holes, designated for centering & locating.
Position the vise over the dowel pins, load onto the plate, insert and tight the Mitee Bite Loc-Down screws.
The RWP-244-V100 is manufactured from 7075 Aluminum – Anodized:Type II Class 2.
Our adapters and risers allow you to attach Raptor Workholding products to any four or five-axis CNC machine. If you need an adapter or riser not seen here, please let us know.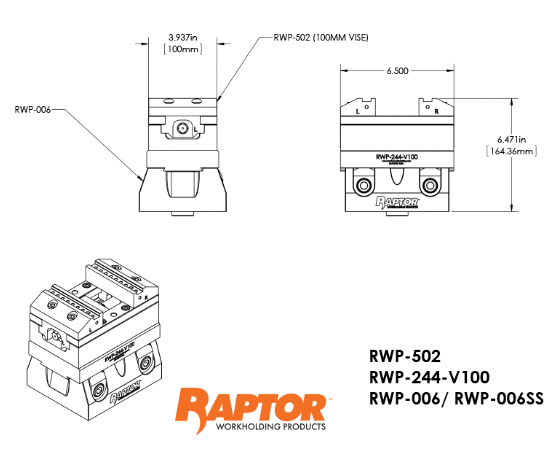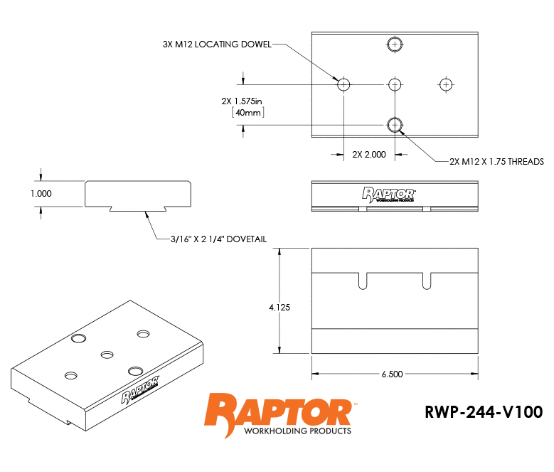 Raptor technical files are free for use of our valued customers. By creating an account or using these files, you agree to the Solid Model License and Privacy Policy.